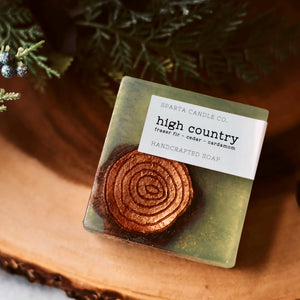 fraser fir - cedar - cardamom
Featuring a lovely hand crafted tree stump.

4.5 oz.
Ingredients: Coconut Oil, Palm Oil, Safflower Oil, Glycerin, Aloe Vera Gel, Goat Milk, Water, Fragrance, Sodium Hydroxide, Sorbitol, Propylene Glycol, Sorbitan Oleate, Oat Protein, Titanium Dioxide, Mica
Way better than I even imagined
We saw Dwane on TikTok and bought some soaps for Christmas presents. When we got the soaps in the mail, the box was so incredibly fragrant it was amazing. The special soaps we got, were also so SO CUTE we are very excited to give them to our grandparents :D Thanks Sparta Candle Co!
Smells amazing and it really lasts
Smells Amazing
So glad I added this one to my order, it's beautiful and it smells amazing!
Got this for my husband for Christmas, smells like a hike in the woods! Love!
My dad has requested more of this one for Christmas so I'll be making another purchase soon! The stump is so beautiful and detailed he almost just sat it on his desk as a decorative piece rather than use it!