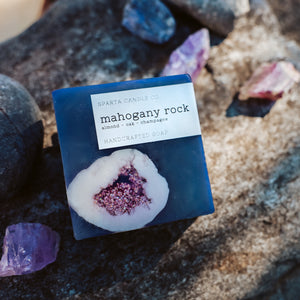 almond - oak - champagne
These 4.5 oz. bars fit perfectly in your hand. Hand crafted in our shop.

Ingredients: Coconut Oil, Palm Oil, Safflower Oil, Glycerin, Aloe Vera Gel, Goat Milk, Water, Fragrance, Sodium Hydroxide, Sorbitol, Propylene Glycol, Sorbitan Oleate, Oat Protein, Titanium Dioxide, Mica
Love the scent and it's beautiful too! A little more of a masculine scent, but not overpowering.
Phenomenally Spectacular
My teenage daughter absolutely adores this soap.
It is stunning how much it resembles an actual geode.
TikTok make me do it
I spent $100 on soaps because of a TikTok video that had a soap inspired by Taylor swift and I would do it again. Came early, super pretty, love everything about it.