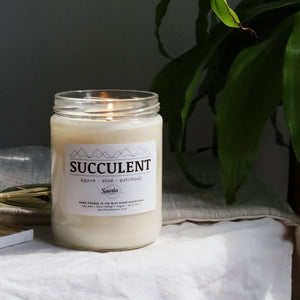 agave - aloe - patchouli
Bright and lively - this candle perfectly captures the unusually complex scent of succulents.
Product info: A 100% soy wax candle hand-poured in Sparta, North Carolina. Featuring natural ingredients and a pure cotton wick.
65 hour approximate burn time

Cruelty-free

Kosher, Vegan, Non-GMO

Cotton wick

Hand-poured in Sparta, North Carolina

Packaged in and with fully recyclable materials
Candle care recommendations:
Let your candle burn until the melt pool reaches the edges of the glass to ensure it burns evenly.
To extend candle life, trim your wick to 1/4" each time you burn.

Safety suggestions:
Only burn candles on a level, heat-resistant surface.

Do not burn candles with less than 1/4" of wax remaining.

Never leave burning candles unattended.

Keep away from children and pets.
Heavenly Scent
Love this candle and how it puts out a heavenly scent in the room and just relaxes your senses. Will definitely be getting more candles and trying out the other scents.
This candle brings the fresh green notes and natural energy of the outdoors into your home!
Love!
Wonderful fragrance for summer!