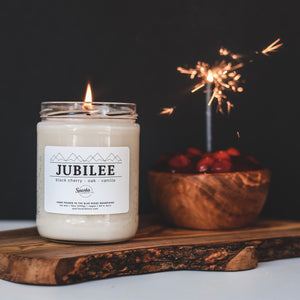 black cherry - oak - vanilla
A sophisticated twist on classic black cherry. Named after the Alleghany Jubilee in downtown Sparta.
Product info: A 100% soy wax candle hand-poured in Sparta, North Carolina. Featuring natural ingredients and a pure cotton wick.
65 hour approximate burn time

Cruelty-free

Kosher, Vegan, Non-GMO

Cotton wick

Hand-poured in Sparta, North Carolina

Packaged in and with fully recyclable materials
Candle care recommendations:
Let your candle burn until the melt pool reaches the edges of the glass to ensure it burns evenly.
To extend candle life, trim your wick to 1/4" each time you burn.

Safety suggestions:
Only burn candles on a level, heat-resistant surface.

Do not burn candles with less than 1/4" of wax remaining.

Never leave burning candles unattended.

Keep away from children and pets.
One of my favorites!!
This scent is one of my personal favorites!! The cherry comes through just enough to give an amazing scent to a whole room without being sickly sweet like most other cherry scents!!
Cherries Jubilee for you and for me
Attention black cherry people! If you love black cherry anything -- especially black cherry ice cream -- I bet you'd like Jubilee. :) When I smelled this candle in the store, I instantly put it into my basket. The vanilla and woodsy oak in Jubilee balance out the fruity cherry bit and keep it from being an overly sweet, one-note black cherry scent. It's nothing like the sharp, super-fruity candles sold by mass market retailers. Sparta's Jubilee is more sophisticated and has real depth. The description says it's named for the Alleghany Jubilee, Sparta's local dancehall. I imagine it must smell like an oak crate overflowing with fresh black cherries and vanilla bean pods.
Love these candles
These candles are by far the best and this one smells so good!
Perfect!
I love this scent! Will be ordering more soon!!