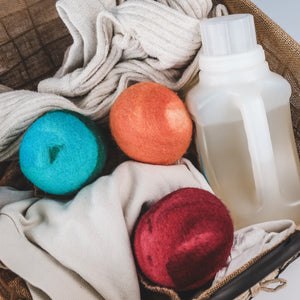 Locally made in Alleghany County by Deb Clemens. Colors are assorted, but we'll be sure to pick pretty ones for you! We recommend using 4 at a time to get the best results.
Info:
Dryer balls allow more air to circulate in your dryer and reduce your drying time up to 25%. They also remove static cling and eliminate the need for fabric softener or dryer sheets, making them very eco-friendly.
These dryer balls are color fast, acid dyed, and have been washed many times in hot water, so the color will not come off on your clothes.
 Dryer balls last indefinitely.
Great Balls of Fire!!!
Just kidding...no fires here but they sure did help my clothes dry quicker and decrease the static cling that I just can't stand with some of my clothes! And the fun, vibrant color, which was a lovely coral was wonderful! Looking forward to ordering more...probably for myself and for gifts!
Wool dryer balls
One of the best purchase's I have ever made!!! They have cut my laundry drying time by 1/3. Thank you Sparta candle company!!!
Laundry Made Fun
Great suggestion by Jesse. They do make a difference in laundry drying evenly. The colors are also fun!