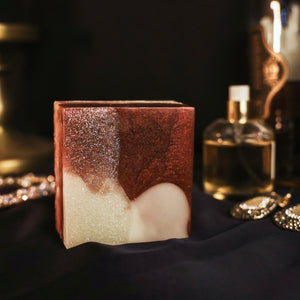 sandalwood - iris - white tea
A sophisticated medley that is both timeless and contemporary.

4.5 oz.
Ingredients: Coconut Oil, Palm Oil, Safflower Oil, Glycerin, Aloe Vera Gel, Water, Fragrance, Sodium Hydroxide, Sorbitol, Propylene Glycol, Sorbitan Oleate, Oat Protein, Titanium Dioxide, Flax Seeds, Mica.
Obsessed
I received a sample of this with one of my orders and have been obsessed with it since. It's slightly "masculine," but not in a college-kid-wearing-too-much-Axe sort of way. Earthy and dreamy. I keep it by my kitchen sink so when I'm done cutting onions (literally), I can erase the bad smells from my paws and replace them with something that smells like a handsome man with an axe and some firewood.
Roaring Gap Soap
I love this soap! It smells amazing!
A new favorite!
This scent might just be a new favorite! I love almost any scent with tea, but I've never smelled a combination like this one. Roaring gap just might be my favorite scent! I also have the wax melts which are great too!
roaring gap soap review
i loved the smell it's very calming and makes me so happy. i if there was more hints of white tea it would be more neutral because it does smell a little on the manlier side which i do like but for some people… you know how they are.