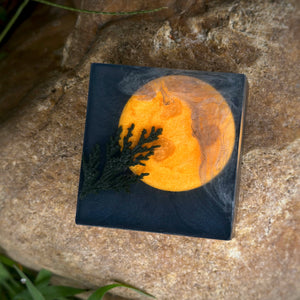 orange peel - peppercorn - apple
Duane's favorite scent!
Experience the luxury of fall, the celebration of harvest, and the magic of the moonlit night, all captured in one exquisite scent.
4.5 oz.  |  plant-based
Ingredients: Coconut Oil, Palm Oil, Safflower Oil, Glycerin, Aloe Vera Gel, Water, Fragrance, Sodium Hydroxide, Sorbitol, Propylene Glycol, Sorbitan Oleate, Oat Protein, Titanium Dioxide, Mica
Harvest Moon
Wonderful scented soap and lotion.
Amazing.
These soaps smell so wonderful and I have just fallen in love with this company! Highly recommend ❤️
Absolutely gorgeous!
This has to be the most beautiful soap ever made! The layering of the different elements is perfect and absolutely stunning. Honestly I don't want to use it because it is so gorgeous and I love looking at it in my bathroom. It smells as good as it looks although it will most likely live in my bathroom more as art than anything because it's just THAT gorgeous. I will likely buy it again so that I can enjoy the scent and the look too.
Best smelling products on the market
I will only use SCC for my soaps. The fragrance makes my whole (very small) bathroom smell so nice.