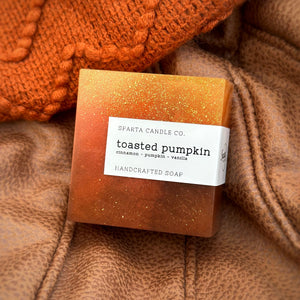 cinnamon - pumpkin - vanilla
4.5 oz.
Ingredients: Coconut Oil, Palm Oil, Safflower Oil, Glycerin, Aloe Vera Gel, Goat Milk, Water, Fragrance, Sodium Hydroxide, Sorbitol, Propylene Glycol, Sorbitan Oleate, Oat Protein, Titanium Dioxide, Mica
Toasted Pumpkin
don't even get me started on the scent in general, I ordered two of the toasted pumpkin candles, it is the best smelling pumpkin scent I have ever smelt, and I am very picky with my fall pumpkin scents and this one definitely knocked it out of the park. I will forever be ordering these candles, and I might order a few more of these soaps to get me through the winter season because of how good they smell. They are amazing!