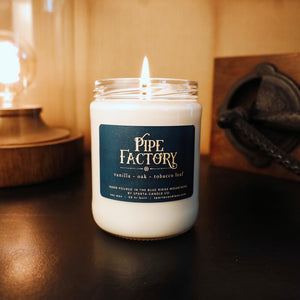 vanilla - oak - tobacco leaf
Embrace the essence of Sparta's storied past with the Pipe Factory. Rich tobacco leaf, sturdy oak, and a hint of sweet vanilla, all bound together with a steampunk vibe. This scent pays tribute to our once thriving pipe factory.
Product info: A 100% soy wax candle hand-poured in Sparta, North Carolina. Featuring natural ingredients and a pure cotton wick.
Approximate burn time: 65 hours (12 oz.) | 30 hours (5.5 oz.)
Cruelty-free

Kosher, Vegan, Non-GMO

Cotton wick

Hand-poured in Sparta, North Carolina

Packaged in and with fully recyclable materials
Candle care recommendations:
Let your candle burn until the melt pool reaches the edges of the glass to ensure it burns evenly.
To extend candle life, trim your wick to 1/4" each time you burn.

Safety suggestions:
Only burn candles on a level, heat-resistant surface.

Do not burn candles with less than 1/4" of wax remaining.

Never leave burning candles unattended.

Keep away from children and pets.
5 stars!
I bought the pipe factory candle hoping it would be nice but not expecting much.
Let me tell you, this scent is amazing! I grew up with a pipe smoking father and I would always lift the lid on his pipe tobacco container and breathe it in because it smelled so good. This candle smells the same! I am transported back in time every time I light this candle. I don't know how their candles are so much better than everyone else's but they are.
That fancy place you went on vacation
If you've ever traveled to a city and entered a fancy store, hotel lobby or art gallery you know they often come with a scent. It's unique but in an engaging way. It leaves an impression. This is that scent. Everything is so balanced yet distinct. It makes you notice it but in the "I must know what that smell is" way not the "go easy on the room spray" way. It smells expensive, high end and memorable.
A Fantastic Autumn Candle, or Year Round!
I purchased one of the smaller candles at Music On Main this month, and I've loved it so much! The balance of the tobacco leaf with the warm scent of vanilla and oak is perfect for bringing in the autumn weather, though I think it's perfect for any time of year. And as always, the team there was great, even with a full shop. Love SCC!
All the Smells!
Love this candle. Warm notes of vanilla and oak. Very subtle hints of tobacco. Smells delicious enough to eat. Need the lotion in my life!!
Best one yet
My 6 year old son gets to come pick out a new candle or soap as a reward. He loves your store. After smelling every candle in the store he choose this one because he said it "was the best". It has a soft but inviting smell. I know we will be back for the large one soon as he has already burnt this one.