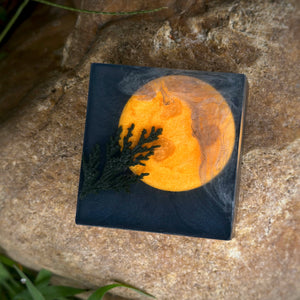 orange peel - peppercorn - apple
Duane's favorite scent!
Experience the luxury of fall, the celebration of harvest, and the magic of the moonlit night, all captured in one exquisite scent.
4.5 oz.  |  plant-based
Ingredients: Coconut Oil, Palm Oil, Safflower Oil, Glycerin, Aloe Vera Gel, Water, Fragrance, Sodium Hydroxide, Sorbitol, Propylene Glycol, Sorbitan Oleate, Oat Protein, Titanium Dioxide, Mica
Great Soap, Quick Delivery
Can get a little pricey with shipping, but the soap smells amazing, and it got here much sooner than i expected. The package even came with a sample which also smelled great! Planning on ordering some of their candles next. Would definitely recommend!
Amazing soaps
I got the harvest soap and the folklore soap and both are absolutely amazing. Plus when I received my soap it came with a mini and I got pipe factory for free which was amazing it smells so good I'm gonna have to buy it in the larger size next time. Overall they make wonderful soap.
ahhhmazingggg
The soap is so beautiful, and the scent is divine. It's the perfect amount of fall, crisp, and clean. A new favorite!! 🤩🤩
Smells amazing!
I got this soap for my sister and it looks so stunning! The smell is just so amazing and screams fall!