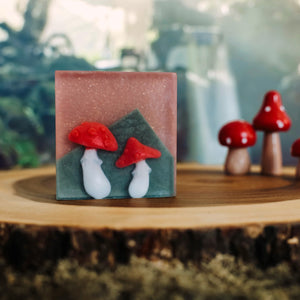 juniper - red currant - sage
Folklore, much like its musical muse, isn't just about a fleeting season full of warm cardigans; it's about memories, narratives, and the invisible string that connects us all.
Formerly known as Flannel.
4.5 oz.
Ingredients: Coconut Oil, Palm Oil, Safflower Oil, Glycerin, Aloe Vera Gel, Goat Milk, Water, Fragrance, Sodium Hydroxide, Sorbitol, Propylene Glycol, Sorbitan Oleate, Oat Protein, Titanium Dioxide, Mica
Totally Dreamy
I'm currently in a mushroom obsession phase, so when I saw this soap design, I KNEW I needed it. I love it. The scent is beautiful and matches the design so well! I have the bar chilling on my bathroom counter for a little while to enjoy before I use it. <3
Flannel soap
Amazing scent and all of the soaps are high quality. Never thought I would stop using liquid soap but I love the soaps and candles from Sparta Candle Co.
SO GOOD
Every soap I get from here is amazing. This one smells like Christmas so I would highly recommend during december.
Smells so good, feels so soft
I bought like 8 soaps because I just wanted to support the business and I always see the Tiktoks and they're very cute, they were all fantastic of course but this one was the real star for me. It smells like a warm Christmas night at my grandmother's, I realize that isn't very helpful for other reviewers to read but it means everything to me. The soap itself takes a bit to get a good lather but the soap net helps a lot and it leaves my skin feeling so buttery soft. I can't wait to try more soaps and maybe some candles too!