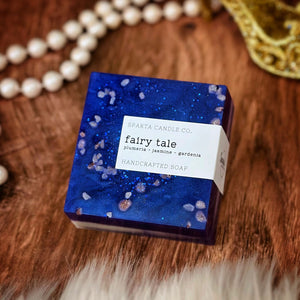 plumeria - jasmine - gardenia
Our bestselling Fairy Tale scent in an enchanting special edition color.
Featuring a Himalayan Pink Salt, which gently exfoliates and revitalizes the skin for a beautiful glow.
Our handcrafted soaps are a luxurious treat for your skin. Perfect for any skin type, it leaves the skin feeling clean, soft, and hydrated. Can be used as both hand and body soap.
4.5 oz.
Ingredients: Coconut Oil, Palm Oil, Safflower Oil, Glycerin, Aloe Vera Gel, Goat Milk, Water, Fragrance, Sodium Hydroxide, Sorbitol, Propylene Glycol, Sorbitan Oleate, Oat Protein, Titanium Dioxide, Mica, Himalayan Pink Salt.
Fairytale Enchanted Edition
I absolutely love every single thing about this soap. It smells so amazing. I ended up buying the lotion and I am buying the car diffuser as we speak. I bought the mini soap to start out with in as soon as it came in I ordered the full bar because of how amazing it smelt. Definitely give it a try! :)
Amazing!!!
I feel super clean after using the soap. It smells absolutely amazing and leaved my bathroom smelling glorious for hours after use. I highly recommend this soap.
get it while you can!!!
I am absolutely in love with the soap I had to buy a since it was only for a limited time and I'm so glad I did!! My skin feel so soft in the scent is so amazing. I absolutely love it.
Swiftie Birthday Success
Bought as a gift for my bff's bday. Smells INCREDIBLE. I just know she's gonna love it!! Super quick shipping as well :)
Floral Heaven
If you love the scent of plumeria/ frangipani you will love this scent.