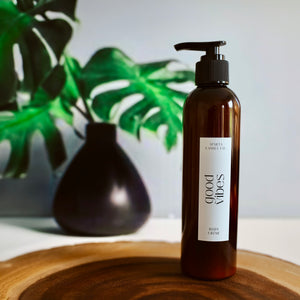 Luxurious lotion available in select favorite Sparta Candle Co. scents.
Ingredients: Water, Aloe Vera Liquid, Citric Acid, Sodium Benzoate, Potassium Sorbate, Sodium Sulfite, Avocado Oil, Rice Bran Oil, BTMS 50, Glycerin, Stearyl Alcohol, Oat Extract, DL Panthenol, Optiphen, Buckthorn Extract, Vitamin E, Fragrance
So wonderful!
I love this lotion. It smells amazing, and feels great!!
Body Creme- Pipe Factory and Fairy Tale
The warm sophistication of pipe factory with the feminine sweetness of fairy tale has me in love with these body cremes. I use them together (not mixed though) because of how they complement each other and I love getting whiffs of both scents throughout my day. The scent does linger very well and I knew I loved these scents from the soap versions. The body crème is lux quality and in an elegant design.
A Favorite!
We stock a few different scents of the body creme in our vacation rentals and they have been a hit! Guests have commenting on them and our two favorite scents are Flannel & Luna! So good I purchased the Luna scent for my personal home, as well.
Love! Love! Love!
Thunderstorm is absolutely my favorite scent in every form! The body creme is light, hydrating & such a fresh smell!