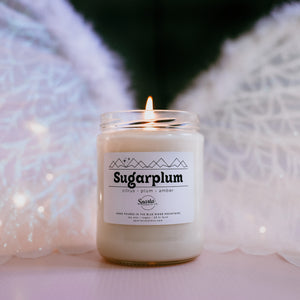 citrus - plum - amber
This scent is every bit as dreamy and magical as it looks. Notes of citrus, plum, and amber some together to create a moody, subtly fruity/sweet scent. A true crowd pleaser.
Also available in soap, body creme, and room spray.
Soy wax
Certified clean fragrance
Cruelty-free

Kosher, Vegan, Non-GMO

Cotton wick

Hand-poured in Sparta, North Carolina

Packaged in and with fully recyclable materials
Candle care recommendations:
Let your candle burn until the melt pool reaches the edges of the glass to ensure it burns evenly.
To extend candle life, trim your wick to 1/4" each time you burn.

Safety suggestions:
Only burn candles on a level, heat-resistant surface.

Do not burn candles with less than 1/4" of wax remaining.

Never leave burning candles unattended.

Keep away from children and pets.
Sugarplum packs a lot of fruity goodness into one jar
Added the Sugarplum candle to my order on a whim and I'm glad I did. It's not *quite* as strongly scented as some of the other Sparta candles I've bought, but that's not a bad thing. Not everyone likes a super strong candle all the time or in every situation. Sugarplum is more subtlely scented, and it's an unusual combination ... the three main notes are somehow indistinguishable. They combine to create a soothing, unique scent that's tough to accurately describe. The freshness of the citrus keeps the plum from being too sweet and the amber from being too heavy. I enjoy Sugarplum as a break from my stronger floral and fruity Sparta candles, and I might even buy another one before it's gone forever.
Sugar Plum visions
Sugar Plum, I didn't know how much I needed you in my life!! What a beautiful scent, clean and fresh and just a hint of sweet. Perfectly balanced!