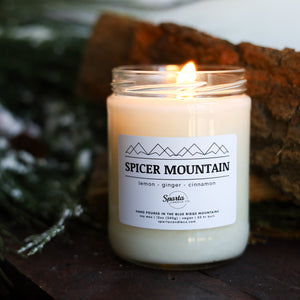 lemon - ginger - cinnamon
Spicer Mountain is more than just a place that many around here call home, it's the warm hug that only this scent can offer. Revisit some of your fondest memories of homemade cookies being baked in the kitchen while you cozy up with some hot tea next to this candle.
Product info: A 100% soy wax candle hand-poured in Sparta, North Carolina. Featuring natural ingredients and a pure cotton wick.
Available in 12 oz. (340g) and 3.5 oz. (99g)

65 hour approximate burn time for 12 oz. candle; 20 hour for 3.5 oz.

Cruelty-free

Kosher, Vegan, Non-GMO

Cotton wick

Hand-poured in Sparta, North Carolina

Packaged in and with fully recyclable materials
Candle care recommendations:
Let your candle burn until the melt pool reaches the edges of the glass to ensure it burns evenly.
To extend candle life, trim your wick to 1/4" each time you burn.

Safety suggestions:
Only burn candles on a level, heat-resistant surface.

Do not burn candles with less than 1/4" of wax remaining.

Never leave burning candles unattended.

Keep away from children and pets.
cookie-like yet not too sweet
At first, Spicer Mountain wasn't one of my faves from Sparta Candle Co. I favor VERY strongly scented candles that permeate the whole living space where they're lit. While a bit more subtle, this one grew on me fairly quickly. The ginger iswarm and just the right amount of spicy, and it's perfectly balanced with a lemony twist, with the cinnamon sort of wrapped around or through both of the more primary notes. Spicer Mountain recalls a spiced citrus cookie or cake, but with slightly less sweetness. At the risk of sounding like a broken record, this is another scent that's quite unique to SCC -- you won't find anything like it in a mass-market brand. Thumbs up!
My first Sparta Candle :)
This candle leaves a warm, citrusy aroma long after I've blown out the flame. Love!
Really nice candle
It's perfect. The scent is clean and pleasing. I
Will purchase again.
Spicer Mountain
A wonderful scent, clean and natural. When my husband with the fickle nose asks for it to be lit, it's another winner from Sparta Candle.