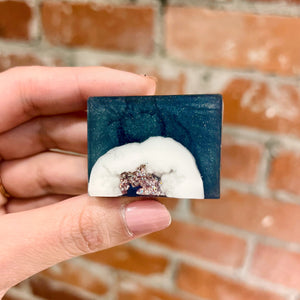 almond - oak - champagne
Sample sized soap to try new scents or share your favorites.
0.56 oz. (16g)
Ingredients: Coconut Oil, Palm Oil, Safflower Oil, Glycerin, Aloe Vera Gel, Goat Milk, Water, Fragrance, Sodium Hydroxide, Sorbitol, Propylene Glycol, Sorbitan Oleate, Oat Protein, Titanium Dioxide, Mica.

Stunning Soaps and Incredible Fragrances
Sparta Candle Co is such an incredible company! The thought process that goes into each bar is just magical! They're pieces of art that smell heavenly! My daughter and I picked out about 10 sample bars to see which ones would be our favorite. Honestly, they're all so amazing, so it's hard to choose a favorite. We will be repeat customers for sure! 🫶
Mini mahogany rock soap
Love the fresh light scent. Such care went in to the geode creation. My favorite out of the 3 I ordered.
Smells delicious! even the sample is a work of art!
This is one of our absolute favorite soaps-and trust us, we have ordered a lot! We love how intricate and beautiful even the sample size came out-it is the perfect gift! The scent is amazing as well. We will definitely be ordering more!