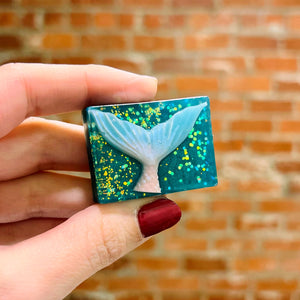 coconut milk - bamboo - cedar
Sample sized soap to try new scents or share your favorites.
0.56 oz. (16g)
Ingredients: Coconut Oil, Palm Oil, Safflower Oil, Glycerin, Aloe Vera Gel, Goat Milk, Water, Fragrance, Sodium Hydroxide, Sorbitol, Propylene Glycol, Sorbitan Oleate, Oat Protein, Titanium Dioxide, Mica.

Deep
I ordered a handful of samples and this was one of my favs. Reminds me of the scent plum rain by lush. It smells like a lush moon pool. It's deep yet what id describe as floral. I love
Super CuTe!!!
I got these little sample mermaid soaps to go in a cruise gift bag. They will be SO CuTe!!
So so pretty
I bought 16 minis and loved every one of them. Two weekends later, I had to visit. I could live in the store it smells so good.
One of my top favorites!
I was able to get this Lost Mermaid as a sample and I am so glad I did because it smells super good! My room mate could smell it and was asking me what it was, and it's his favorite too! After washing my hands it fills my kitchen up with an amazing scent. I'm bad at describing scents but I'd say something like refreshing and oceany?