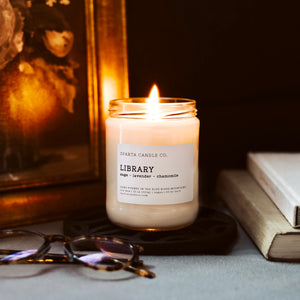 sage - lavender - chamomile
A 100% soy wax candle hand-poured in Sparta, North Carolina. Featuring natural ingredients and a pure cotton wick.
65 hour approximate burn time

Cruelty-free

Kosher, Vegan, Non-GMO

Cotton wick

Hand-poured in Sparta, North Carolina

Packaged in and with fully recyclable materials
Candle care recommendations:
Let your candle burn until the melt pool reaches the edges of the glass to ensure it burns evenly.
To extend candle life, trim your wick to 1/4" each time you burn.

Safety suggestions:
Only burn candles on a level, heat-resistant surface.

Do not burn candles with less than 1/4" of wax remaining.

Never leave burning candles unattended.

Keep away from children and pets.
LOVE! Very transportive
This candle is everything I hoped for and more. The three scents together create the perfect sentiment of not only peace but also inspiration, as you would experience in a library surrounded by endless tales, imagination, and knowledge. Perfect for all occasions, whether you want to relax or focus. Burns cleanly and with the right amount of scent. Can't wait to get more. Well done, Sparta Candle Co!
One of my favorites
I've tried many of the scents at Sparta candle. This one remains one of my favorites. It's a fresh, clean smell and is one of my repeat purchases.
The candle I didn't know I was looking for
I kept thinking of suggesting a Hometown Heroes line of candles, because I selfishly wanted to see my grandfather have one. And then I ordered Library, because I love to read, and spent A LOT of time at the one in Sparta as a kid. It sounded like it would smell good, so I clicked "add to cart." Oh, am I glad I did. As soon as I got it and took that first smell, I realized: that's my grandfather. So thank you for once again giving me good memories.
Love the scent
Lavender, sage, and chamomile--three of my very favorite scents, and they come together beautifully in this candle. Such a calming and soothing scent!
Third Time!
I've purchased this candle three times now. It is hands down my favorite candle of all time. Fresh but cozy, rich but gentle, clean but not chemical. I intend on buying this candle on repeat basically forever.