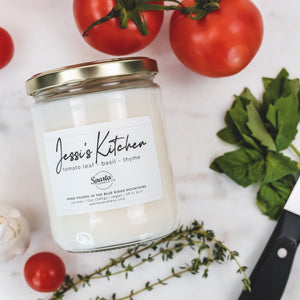 tomato leaf - basil - thyme
Jessi's Kitchen
I have this candle and have given the same to my kids. We all love it and hope you continue to offer it.
LOVE
I brought this candle into work and it gives the office a more fresh vibe - the perfect balance of herby and a touch of sweetness. Not overpowering. Might be my favorite Sparta scent.
Jessi's kitchen is a must have!
This is the best candle I have ever had for my kitchen! It has such a unique, fresh scent that makes me so happy!
So delicious
Smells like a garden! So fresh- I'm so glad I bought two!
Not tomato season yet, but in my house it is!
This smells just like walking through my rows of tomatoes in my garden. While it's not quite tomato season yet in MI, it is in my house whenever this is burning. It's NOT over powering at all. If you love tomatoes and the smell while walking through a garden or nursery of the plants you will no doubt love this!