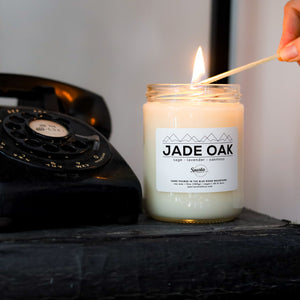 sage - lavender - oakmoss
Visualize your next walk through the deep mountain woods with this earthy, masculine scent. Strengthened with rustic top notes of oak moss and softened by lightly floral basenotes, this well-rounded fragrance will have you feeling at one with nature in no time.
 Also available in soap, body creme, and room spray.
Product info: A 100% soy wax candle hand-poured in Sparta, North Carolina. Featuring natural ingredients and a pure cotton wick.
65 hour approximate burn time

Cruelty-free

Kosher, Vegan, Non-GMO

Cotton wick

Hand-poured in Sparta, North Carolina

Packaged in and with fully recyclable materials
Candle care recommendations:
Let your candle burn until the melt pool reaches the edges of the glass to ensure it burns evenly.
To extend candle life, trim your wick to 1/4" each time you burn.

Safety suggestions:
Only burn candles on a level, heat-resistant surface.

Do not burn candles with less than 1/4" of wax remaining.

Never leave burning candles unattended.

Keep away from children and pets.