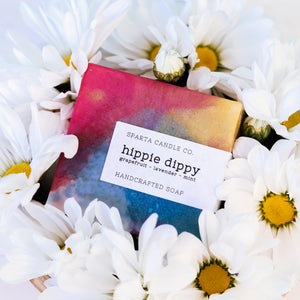 grapefruit - lavender - mint
Our handcrafted soaps are a luxurious treat for your skin. Perfect for any skin type, it leaves the skin feeling clean, soft, and hydrated. Can be used as both hand and body soap.
4.5 oz.
Ingredients: Coconut Oil, Palm Oil, Safflower Oil, Glycerin, Aloe Vera Gel, Goat Milk, Water, Fragrance, Sodium Hydroxide, Sorbitol, Propylene Glycol, Sorbitan Oleate, Oat Protein, Titanium Dioxide, Mica
Love the colors in this! Every time i use it, my kitchen smells great!
Absolutely beautiful soap! Smells amazing and makes your hands so soft. I got a free mini too! Worth the wait time for sure :)
Smells exactly like the name!