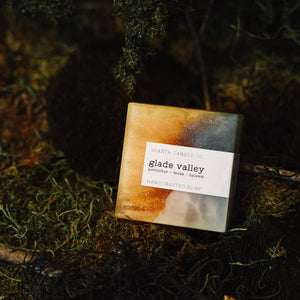 petrichor - moss - balsam
These 4.5 oz. bars fit perfectly in your hand. Hand crafted in our shop.

Ingredients: Coconut Oil, Palm Oil, Safflower Oil, Glycerin, Aloe Vera Gel, Goat Milk, Water, Fragrance, Sodium Hydroxide, Sorbitol, Propylene Glycol, Sorbitan Oleate, Oat Protein, Titanium Dioxide, Mica
Earthy Goodness!
To me, I think this soap smells like potting soil and that is a GOOD THING! It reminds me of getting my plants potted in spring and how much fun that is. I love the earthiness and warmth it gives.
Petrichor
This soap captures the scent of a rainy day almost too perfectly. It's very potent which I liked so when I leave it out in my shower my bathroom smells like it's about to start raining in there. Love this, its my fav from sparta and I 100% recommend
So earthy !
Smells just like petrichor and also has a hint of sweetness ! It's so perfect for those that love true earthy scents.
BEST soaps out there!!
I've ordered seven different soaps from here so far and they've all been phenomenal! The scents are amazing, they have great lather, and they're so pretty! They always leave my skin feeling so soft! I will definitely be a longtime customer! Glade Valley is such a nice scent and it's so pretty!
Sweet, earthy bar of heaven!
I just received my Glade Valley soap - It has an earthy but sweet scent, with a bit of a spicy undertone likely due to the balsam. I feel that it delicately toes the line between a masculine and feminine scent. It smells like you're walking through a greenhouse on a breezy spring day. Can't recommend this little bar of heaven enough!