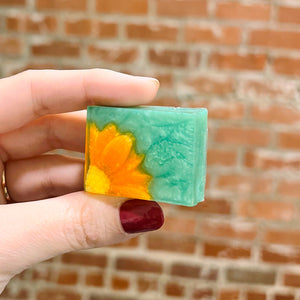 orange blossom - neroli - jasmine
Sample sized soap to try new scents or share your favorites.
0.56 oz. (16g)
Ingredients: Coconut Oil, Palm Oil, Safflower Oil, Glycerin, Aloe Vera Gel, Goat Milk, Water, Fragrance, Sodium Hydroxide, Sorbitol, Propylene Glycol, Sorbitan Oleate, Oat Protein, Titanium Dioxide, Himalayan Pink Salt, Mica.

I love you
I'm obsessed with all my soaps
All around great
I bought the mini flower child and river rock soap to see if I could be a bar of soap person and find the right smell for me. The flower child is my favorite, it reminds me of walking a trail lined with honeysuckle bushes with my mom. Great company, great soap. I will be buying the full size flower child.