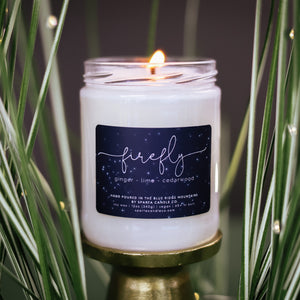 ginger - lime - cedarwood
Zesty, energizing, and earthy - this scent is perfect for warm summer nights spent catching fireflies.
Firefly
Wonderful company. I love supporting a small business with the best soaps amd candles. I really like the firefly candle. Nice scent not to overpowering. Love the ginger in the candle.
One of my Very Favorites
I love this scent. Burn the candle on my screened in back porch and the soap is just as beautiful
Ginger comes through!
This has got to be one of my favorite scents of all time. I never would have thought I'd go for a ginger candle but it's just so refreshing and pleasant.
I just got done burning the lemon one I had and firefly was next in the line up. It's smells wonderful. To be me it's a beautiful scent that really carries through out the room.