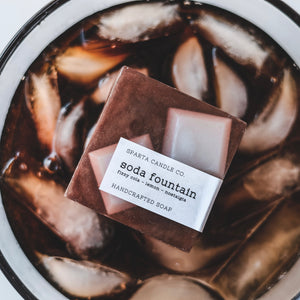 fizzy cola - lemon - nostalgia
4.5 oz.
Ingredients: Olive Oil, Coconut Oil, Palm Oil, Safflower Oil, Glycerin, Goat Milk, Water, Fragrance, Sodium Hydroxide, Sorbitol, Propylene Glycol, Sorbitan Oleate, Oat Protein, Titanium Dioxide, Mica.
Delicious smell
This smells absolutely amazing. We were blown away at how delicious this smells. It is spot of to smelling like a soda
Smells great, was a little small for the price but there is a lot of work and time that goes into each bar so it evens out.
Lovely scent that lingers
I love using this as a hand soap…the smell lingers on my hands and I can enjoy it multiple times a day, definitely a unique scent that you've got to try!