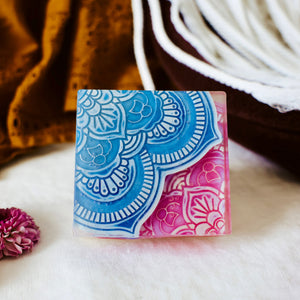 bergamot - jasmine - white tea
Increase the peace! Luxurious and soothing, this soap will definitely help elevate your zen.
4.5 oz.  |  plant-based
Ingredients: Coconut Oil, Palm Oil, Safflower Oil, Glycerin, Aloe Vera Gel, Water, Fragrance, Sodium Hydroxide, Sorbitol, Propylene Glycol, Sorbitan Oleate, Oat Protein, Titanium Dioxide, Mica
Amazing
This soap is not only beautiful but smells so good! It matters up so nice. Leave my skin feeling and smelling amazing! Definitely will get it again.
Beautiful and great smelling soaps!
I bought soaps for my boyfriend who loves watching the TikToks for this company! He (and I) think they're beautifully crafted and smell wonderful. They're like little works of art.
I love the updated design! It goes beautifully with the scent. Gonna keep this one around a bit before I use it just to enjoy the look!