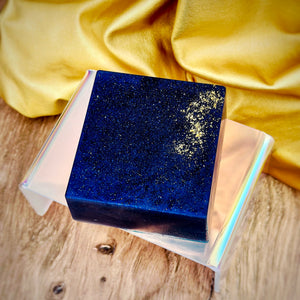 ginger - lime - cedar
4.5 oz.  |  plant-based

Ingredients: Coconut Oil, Palm Oil, Safflower Oil, Glycerin, Aloe Vera Gel, Water, Fragrance, Sodium Hydroxide, Sorbitol, Propylene Glycol, Sorbitan Oleate, Oat Protein, Titanium Dioxide, Mica
Lovely!
I just love my Midnight Soap! It has a beautiful scent and it lathers so well. Thank you!
My new favorite!
Wow am I glad I took a chance and ordered this bar! Not only beautiful, but smells fantastic. It smells exactly like a Moscow Mule cocktail, perfect blend of ginger and lime! Alluring scent that works for men and women, take the chance and just order it, you won't be disappointed
Great soaps!
I bought quite of few soaps recently and they are smell great and the quality is great! The packaging was simple but cute which I loved. Everything was really good. I personally used the soap as did my family and the only thing is I don't like the type residue or finish it leaves. It's like sticky or something I cannot fully describe. It's just a personal feeling I don't like myself but I still love it regardless!
Amazing scent, beautiful bar
This scent is so relaxing. My whole shower smells lovely since I've used it. The bar is as cute as pictured as well.
If you have sensitive skin…
…this product is PERFECT! I hated removing the bar from its packaging because it's so beautiful. My sister has completed her chemo treatments and her skin is very sensitive. She used the bar and her hands are so soft. She hasn't had any negative reactions too the soap and that's what we wanted. The scents also lingers for a very long time. Love it!